As the primary Group for marine charting of Atlantic Ocean shipwreck's and to assure improved marine quality for the next century, the GPSCharts Staff, in association with other Government organizations are committed to a clean and healthy environment.

In the collection you will find targets that are not listed on any charts. Just give us a target center an we will get you any numbers within a 5 mile radious.
Are you an individual or company in need of a highly detailed marine survey? GPSCharts.com can offer you the services you require, be it wreck locations, bottom survey, inspections or drowned victim search, we can assist you at very competitive prices.
Side scan sonar works like an underwater radar and is the best tool in existence for locating submerged items as small as a 5 gallon bucket. Regardless of visibility in the water the sound pulses penetrates hundreds of meters to each side of the sonar tow fish. An incredibly accurate and high-resolution picture of the seabed and any objects lying upon it is displayed on a computer screen. Massive areas can quickly and efficiently be surveyed.
GPSCharts has been providing hydrographic and geophysical survey services for more than 20 years.
Through the use of Side-Scan Imagery and Underwater video we offer the service of Professional underwater artifact location and recovery. For objects as small as a five gallon pail to boats, motors, pilings, cars, trucks, and our least favorite, Persons.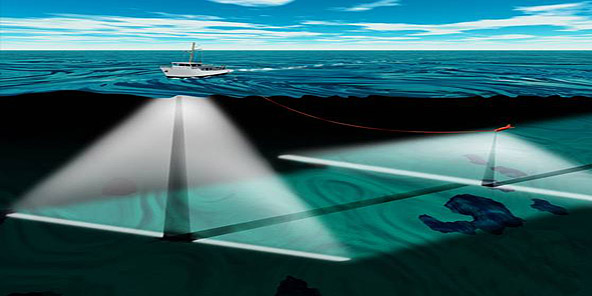 Artifact location / recovery
Whether you are looking for inshore fishing targets or offshore targets we can supply you with numbers in a certin area.
Services include:
Hydrographic (MBES) surveys
Geophysical site surveys: Single and multiple pass surveys acquiring swathe bathymetry, single and multi-channel seismic, sub-bottom profile
Pre and post construction (scour) surveys: MBES and side-scan sonar surveys to determine seabed changes, map debris, evaluate (3D) seabed mobility, accretion and erosion (scour) around installed infrastructure or dredged areas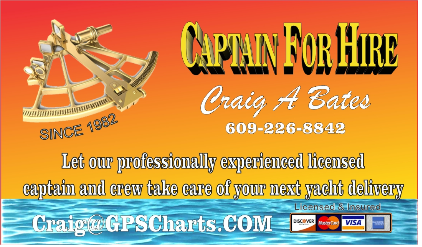 We are federally licensed professional merchant marines!
Our rates are basically industry standard rates, we don't try to be the cheapest we are professional captains and plan accordingly we are successful, careful and give you what you pay for!
RATES
CAPTAIN and 1 Crew: Starting at $450.00 per day, $600.00 per day for larger vessels
DECKHAND : $125.00 per day
CREDENTIALED SEAMAN : $200.00 per day
FEES
FUEL COST: fuel, oil or other consumables used during the trip will be at the owner's expense.
A DEPOSIT WILL BE REQUIRED ON EXPECTED FUEL COST
DOCKAGE FEES: we do not add on to the cost of dockage fees, power vessels on the inter costal will have docking fees we don't run the smaller power boats 24 hours a day so we will sleep on the boats in marinas if appropriate anchorage is not available.
TRANSIT FEES or Port Cost, Sailing permits: At owners expense no ad on's
A DEPOSIT IS NECESSARY to schedule you on my calendar, obtain crew and become available
PAYMENTS: by Cash in person or Credit Card or Online through Pay Pal
Sailboats all sizes at least 1 deck hand required.
Sailboats underway 24 hrs a day need for more than one person aboard.
Sailboats over 65 feet or any boat on very long passages 2 deck hands
Powerboats 1 deck hand required, larger boats may require a second hand
Advanced reservations are required for all trips.
Payment is required to reserve a booking.
Payment can be made by: cash or credit card in person, check by mail, or online via paypal.
Checks must be cleared prior to the trip.
CANCELATION POLICY
Captain at his sole discretion may
cancel or postpone a delivery due to weather conditions or any unsafe condition of vessel or unforeseen circumstances beyond his control.
Every effort will be made to reschedule the delivery under the same terms and conditions.
Captain is not responsible for any loss incurred by the customer as a result of a cancellation except for the fees paid, any fees would be refunded.
If the customer cancels the reservation for any reason, 50 % the amount will not be refunded.